Eliud Kipchoge running on the streets of Paris (© Paris 2024)
Paris 2024 today unveiled the routes for the Olympic marathon and the two races – a 42.195km course and a 10km course – open to the general public as part of mass event running.
The announcement was made in the presence of Tony Estanguet, President of Paris 2024; Anne Hidalgo, Mayor of Paris; Valérie Pécresse, President of the Ile-de-France Regional Council; World Athletics CEO Jon Ridgeon; Geoffroy Sirven-Vienot Vice-President of Sponsorship, Events and Partnerships at Orange; Paula Radcliffe world record-holder between 2003 and 2019, and French international marathon runner Yohan Durand.


A remarkable, challenging and inspiring course
For the Olympic marathon, one of the most iconic events of the Olympic Games, Paris 2024 has unveiled a new route.
When planning the route for this legendary event, Paris 2024 drew inspiration from the 'Women's March' of 5-6 October 1789 when 6-7000 Parisian women marched through Paris, Sèvres and St Cloud before reaching Versailles and forcing the King back to the Tuileries Palace.
Starting at the Hôtel de Ville and finishing on the Esplanade des Invalides, the course will take in some of the most beautiful sights and monuments of Paris and its surroundings. It will deliver 42.195km of drama with the Louvre Pyramid, Grand Palais, Château de Versailles and the Eiffel Tower as its backdrop.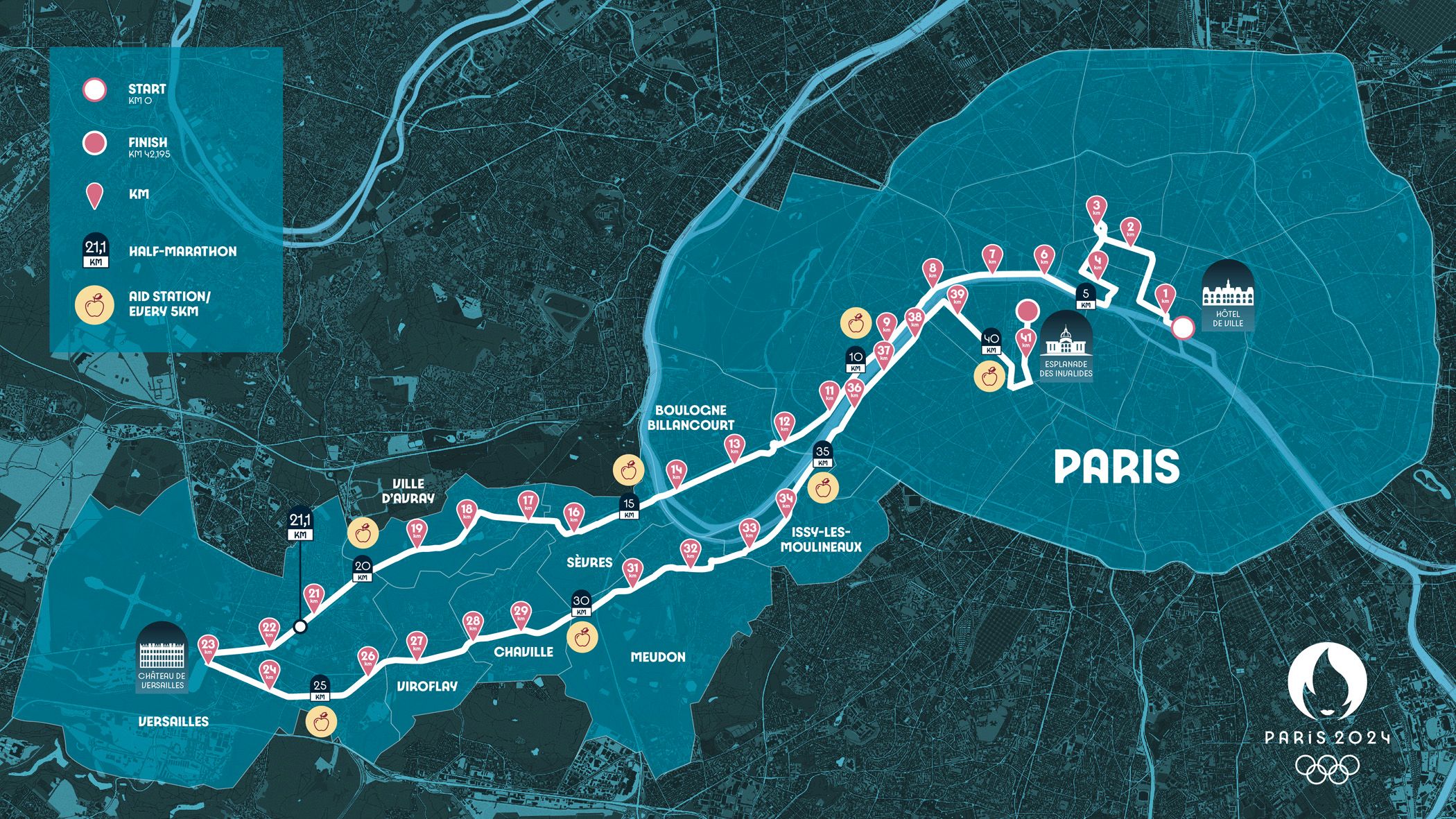 Marathon course for the Paris 2024 Olympic Games

This Olympic Marathon also has a particularly tough profile with an overall elevation gain/loss of 438m. The route – specially designed for the Paris 2024 Games and approved by World Athletics – is unique, demanding and technical.
"With its unprecedented route, the Paris 2024 Marathon represents a great sporting challenge for the athletes, in a spectacular setting," said Radcliffe. "This race, more unpredictable than ever, promises to be mythical."
"Beyond a doubt, the Paris 2024 Marathon will have something special about it," said two-time Olympic champion and world record-holder Eliud Kipchoge. "To perform in such an impressive setting, in a place so charged with history and symbolism, will be a unique experience. I could not ask for a more perfect race for the Games."
"Paris 2024 is providing us a route that's rich in symbolism, entertainment and athletic challenge," added Durand. "Taking up this challenge here in my home country is a lifelong ambition."
A race open to the general public for the first time in Olympic history
With mass event running, the general public can put themselves in the shoes of their Olympic heroes and run the same marathon route.
To open up this experience to everyone, Paris 2024 will offer, in addition to the traditional 42.195km distance (20 years old and above), a 10km race accessible to as many people as possible (16 years old and up).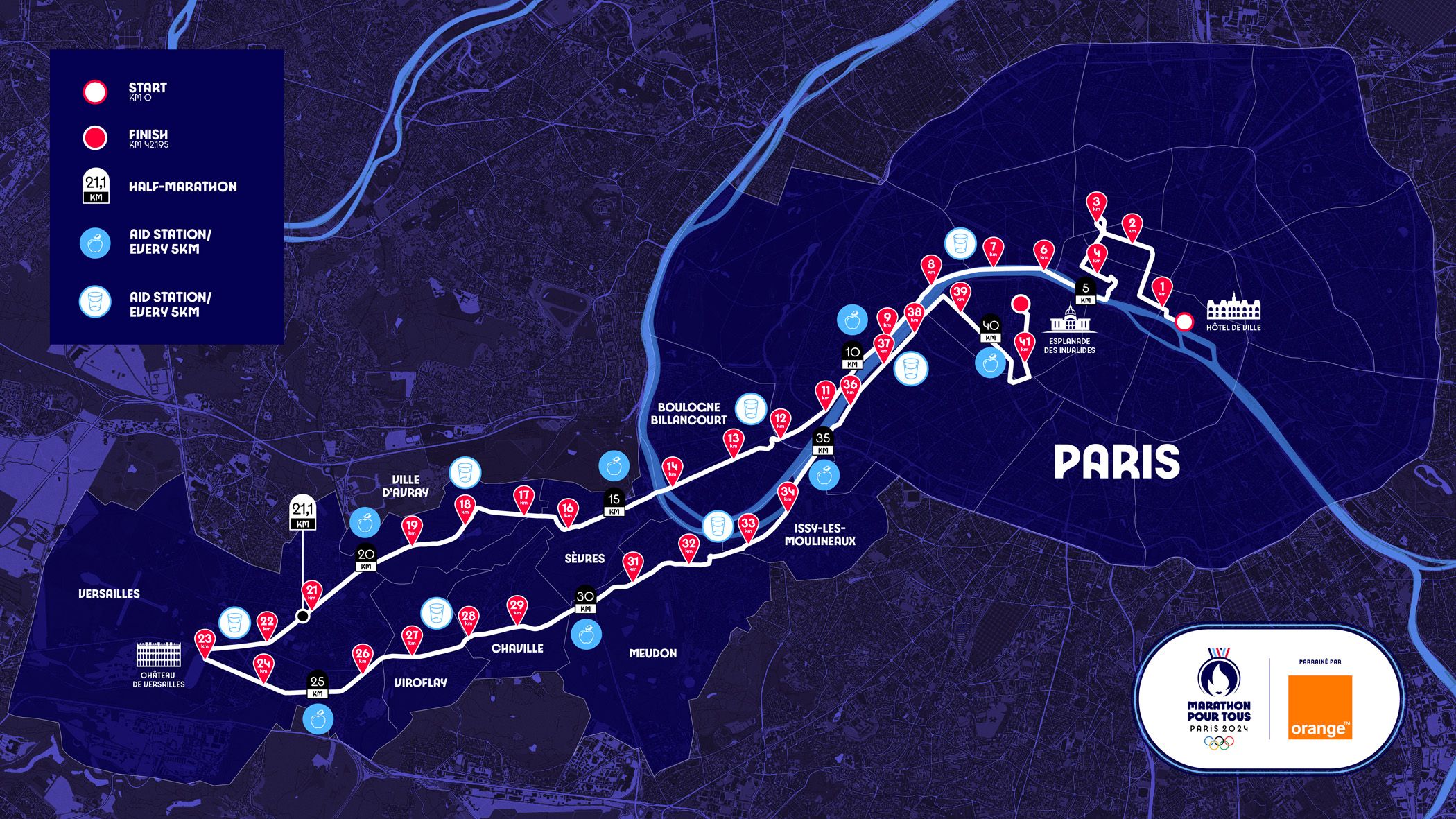 Mass event run course for the Paris 2024 Olympic Games

With 20,024 participants per race, Paris 2024 offers experienced athletes and up-and-comers a unique opportunity to participate in the Games and experience this festive, athletic gathering that is sure to leave each participant with an unforgettable memory.