Eliud Kipchoge wins the men's marathon at the Rio 2016 Olympic Games (© Getty Images)
The saying goes that all good things must come to an end, and haven't the past nine days been incredible? The Tokyo 2020 Olympic Games athletics programme is not over yet, though, with one final event to come on Sunday (8).
Instead of five things to follow, as on previous days, here we highlight five of the athletes to watch out for in that one event.
Some of the sport's biggest stars will be looking to help end the Games on a high when they race the men's marathon in Sapporo.
So here are five to follow on day 10…
Men's marathon
7:00am Tokyo time | 12:00am CEST


Eliud Kipchoge
Only two athletes have ever retained the Olympic men's marathon title: Ethiopia's Abebe Bikila, the 1960 and 1964 champion, and East German Waldemar Cierpinski, who won in 1976 and 1980. Kenya's Eliud Kipchoge – the fastest marathon runner of all time – will be looking to become the third on Sunday.
Over the course of his career, Kipchoge has arguably achieved more than both of those fellow legendary marathoners: he's broken the world record, which currently stands at 2:01:39, and pieced together a 10-race unbeaten streak over a five-year stretch. That streak finally came to a halt at the London Marathon in 2020, but he bounced back in April, winning in Enschede in 2:04:30. Joining him on the Kenyan team are Lawrence Cherono and Amos Korir.


Lelisa Desisa
Ethiopia's world champion Lelisa Desisa hasn't run under 2:06 since 2018, but his performance to win his world title in Doha's difficult conditions in 2019 bodes well for a mid-summer marathon that is also expected to endure warm temperatures in Sapporo.
As well as his world gold, the 31-year-old claimed world silver in 2013 and his major marathon wins include New York in 2018 and Boston in 2013 and 2015.
Shura Kitata, who won the London race that ended Kipchoge's streak, and Sisay Lemma add further strength to the Ethiopian team.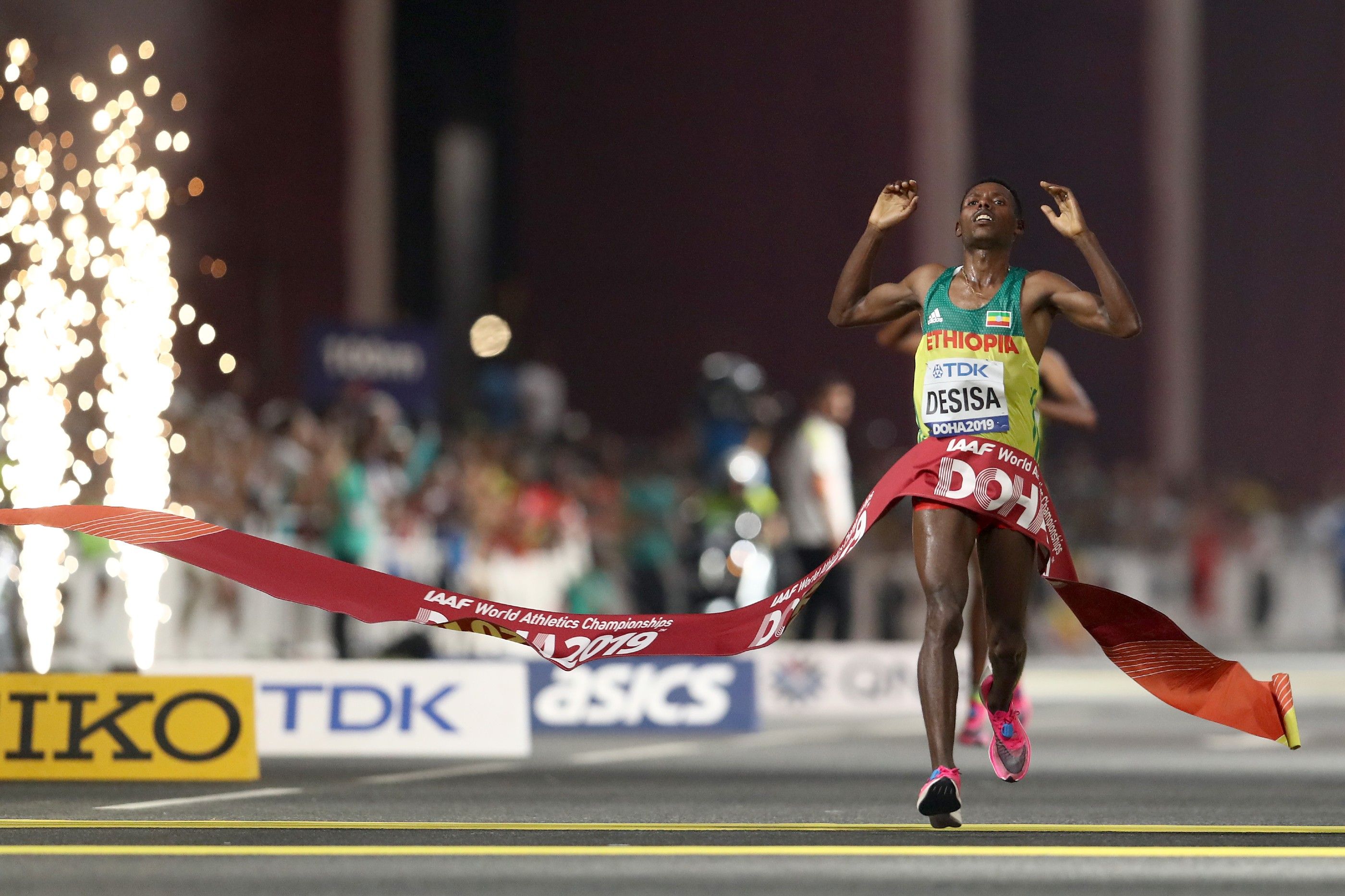 Bashir Abdi
Belgium's Bashir Abdi improved his national record to 2:04:49 when finishing second at the Tokyo Marathon last year and also has a seventh-place finish at the 2019 London Marathon to his name.
Five years ago in Rio he raced the 5000m and 10,000m and his marathon debut came in Rotterdam in 2018, the same year he claimed the European 10,000m title. He has also improved his track speed since then, with the 32-year-old having clocked a PB of 27:24.41 to finish second at the European 10,000m Cup in Birmingham earlier this year.


Suguru Osako
The marathon-mad host nation's hopes lie with Suguru Osako, who broke his own national record with a 2:05:29 run at the Tokyo Marathon in 2020, finishing fourth. That national record was taken to 2:04:56 by Kengo Suzuki in February, and Osako now sits third on the Asian all-time list.
Osako also has third-place finishes at the 2017 Boston and 2018 Chicago marathons to his name and in Sapporo he will be joined on the Japanese team by Marathon Grand Championships winner Shogo Nakamura and Yuma Hattori, who has a 2:07:27 PB from 2018.


Tachlowini Gabriyesos
Contesting the distance for just the second time, Tachlowini Gabriyesos clocked 2:10:55 at the Hahula Galilee Marathon on 14 March to become the first refugee athlete to better an Olympic qualifying standard for the Tokyo Olympics.
The 23-year-old Eritrean native trains with the Emek Hefer Club in Tel Aviv and is now getting ready to make his Olympic debut as part of the Refugee Olympic Team.
"The Olympics is my dream as a professional athlete," he said. "I want to show others that everything is possible and they shouldn't give up."