Portugal's Joao Vieira in the 50km race walk at the World Athletics Championships Doha 2019 (© AFP / Getty Images)
Joao Vieira knows what time discos close – but it's doubtful the Portuguese champion has been in one recently.
The 45-year-old is too focused on adding a second glorious 50km race walk medal from the Tokyo Olympics to the silver he claimed at the 2019 World Athletics Championships.
After wearily crossing the finish line in Doha, he ruefully remarked it was the same hour as clubs showed clients the door. This was the result of an 11.30pm start – the one sure way to avoid daytime and the worst of the punishing desert heat.
"It's now four o'clock in the morning, which is a more proper time to be leaving a disco. I usually go to bed at 10pm," he said. "However, I feel very good. It's not every day we win a medal, especially at 43."
He's two years older now, but insists his biggest competitor for a place on the Olympic podium is himself.
Curiously, he calls the rest of the 50km field his 'test partners' in what is likely to be the last race in a major at the distance. Even so, he is preparing for another memorable day. To again defy the odds, Vieira believes the secret of staying competitive at an age when most have hung up their trainers, is attention to detail. He is known for his painstaking approach.
Vieira says he carefully 'listens' to his body, plots each and every move, and revels in the coaching from his wife and training partner. Vera Santos won two World Walking Cup medals for Portugal, and made two Olympic and six World Championships appearances.
At one stage her husband coached her, now she coaches him.
Santos said: "In 2016 I had a lot of physical problems, and I started to devote myself more to training him on technical aspects."
When Vieira toed the line in Doha, he tied with compatriot Susana Feitor for a stunning 11th appearance in the World Championships. Only Spain's evergreen Jesus Angel Garcia has walked more with 13.
But as 2005 world bronze medallist Feitor points out, it helps somewhat if you've been a full-time athlete all your adult life. She added: "You can imagine if he had another job or goals outside his athletic career, that would make a difference, not only regarding focus but also about the physical management.
"When it is possible to combine discipline, focus and physical capacity, with money support from the club or Olympic committee, I guess it is possible to continue and renovate the will and mental power to keep going.
"Joao is very methodical about his body, especially regarding recovery or controlling training effort. And also, do not forget his wife is also his training partner."
The pair worked out that in order to survive Doha, Vieira needed to get out on the road at midnight to recreate the race.
She said: "We had to change everything to train at that time, so his body could react. In terms of heat, he did several stages at altitude, but could never get close to the conditions."
So, at the university in Coimbra, halfway between Lisbon and Porto, and with the aid of an expert physiologist and assistant, Vieira trained in a chamber where heat and humidity were replicated to bring everything as close to the real thing as possible.
He added: "I knew it might not be the best athletes to win medals, but rather the athletes who best adapted to those difficult conditions."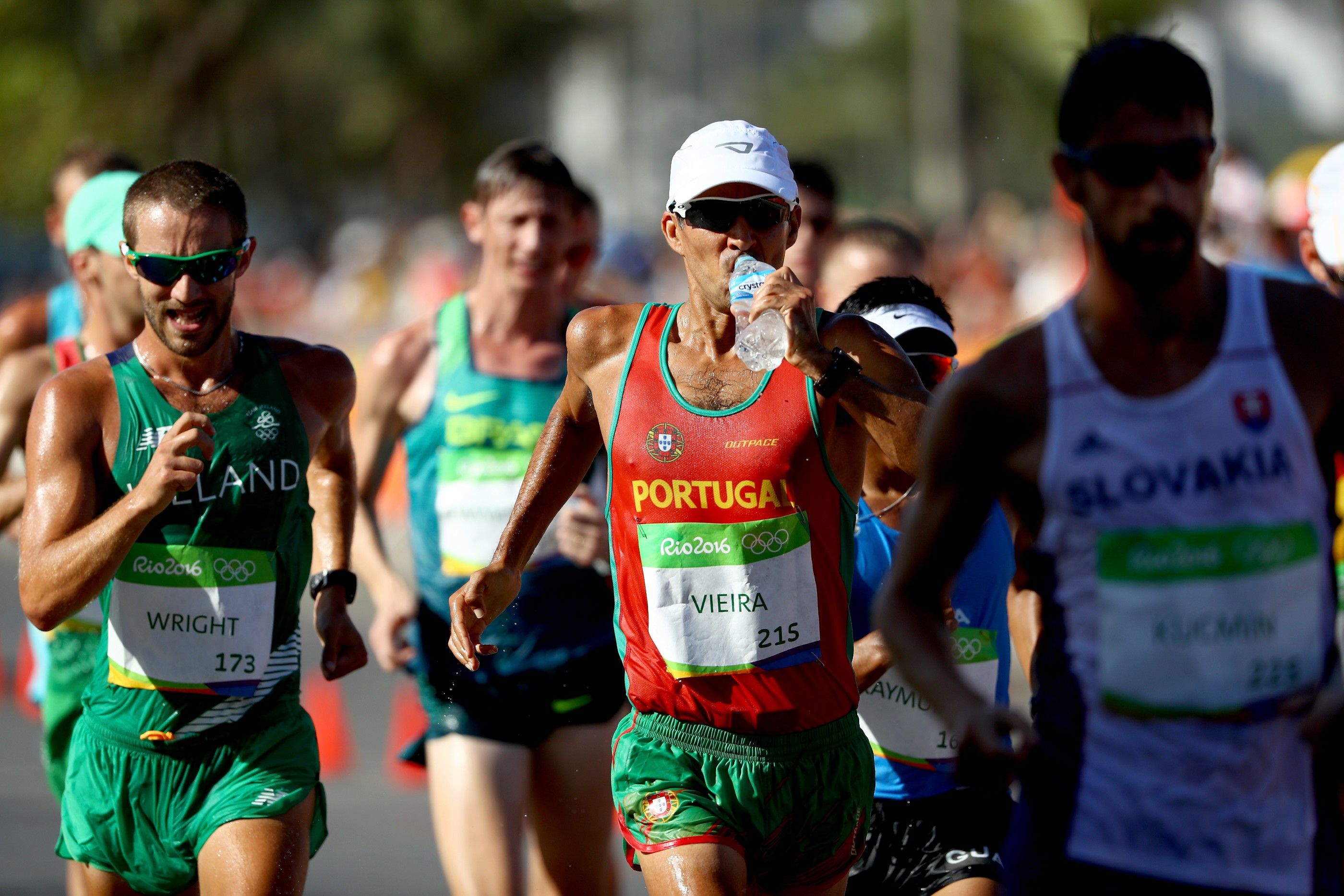 Rio 2016 was Vieira's fifth Olympic Games and he finished 31st in the 20km race walk (© Getty Images)

The Portuguese athlete has a personal best of 3:45:17, set in 2012, that places him a modest 133rd on the all-time list. But as he hinted, it's all about the performance on the day. Rarely do records get broken in championship races.
The all-important question remains.
Why, since he first competed in the 1994 World U20 Championships, and with World Championships 20km bronze from 2013 as well as that Doha silver to go with two European Championships medals, does he want more?
Vieira's answer is simple: he likes what he does.
"I still feel motivated after 27 years because I like what I do and I can achieve my goals nationally and internationally," he said.
Santos echoes the thought.
"It's like he says: he wakes up every day like he's 20 years old, and with pleasure and desire to train every day."
Vieira is aware things are going to be different again in Sapporo where the walks and marathons take place. For a start, there is likely to be few spectators, if any.
"I think for all athletes it will be strange if we have no spectators. Often, they are the ones who cheer and encourage the athletes," Vieira said. "My training cycle right now is split by volume and speed. There is both sea level training and at altitude. Everything depends on working toward the main competition."
For a man with 50km on his mind, Vieira appeared in good form when he produced a very creditable 1:21:40 and 15th place at the 20km La Coruna leg of the World Athletics Challenge - Race Walking series on 5 June.
His best, 1:20:09, dates all the way back to 2006.
Maybe, after these Olympics, the Portuguese, who lives in Rio Maior with Santos and their daughter, will settle down to family life and finally call it a day?
He doesn't think so.
In fact, he's taking a leaf from Garcia's book, who will also line up in Sapporo at the age of 51 for an amazing eighth Olympiad.
Vieira said: "I think I'm going to continue after the Olympics. I want to do the next World Cup in 2022.
"Jesus Angel Garcia? He is amazing, and has been an example to all athletes with his strength and longevity and dedication to race walking".
Quite obviously, the Spaniard is not the only one.
Paul Warburton for World Athletics