Memorable moments from the Tokyo Olympic Games (© Getty Images)
With three world records, 12 Olympic records and dozens of area and national records, the Tokyo 2020 Olympic Games was officially the highest quality major event in athletics history.
But beyond the record-breaking performances, what made the Games truly memorable were the other moments that happened on and off the field of play.
From heart-breaking post-race interviews to mid-race fist-bumps, the 10 days of athletics action were one long emotional rollercoaster. Here are just 10 of the moments that will long live in the memory.
1. "Can we have two golds?"
Anyone who has followed the high jump in recent years would have been aware of what Gianmarco Tamberi and Mutaz Barshim have been through in the lead-up to the Tokyo Games.
Tamberi picked up a career-threatening injury just before the Rio Olympics, while Barshim suffered a similar fate back in 2018. Both the two friends rehabbed their way back to competitive form in recent years and headed to Tokyo in pursuit of their first Olympic title.
They each produced a flawless series up to and including 2.37m and then recorded three failures at 2.39m. For his final attempt at that height, Tamberi even used his old plastercast as a marker for his run-up, a reminder of all he'd been through to get to that point.
As the last athletes in the competition, as per the rules for ties in vertical jumps, they were given a decision to make from the official.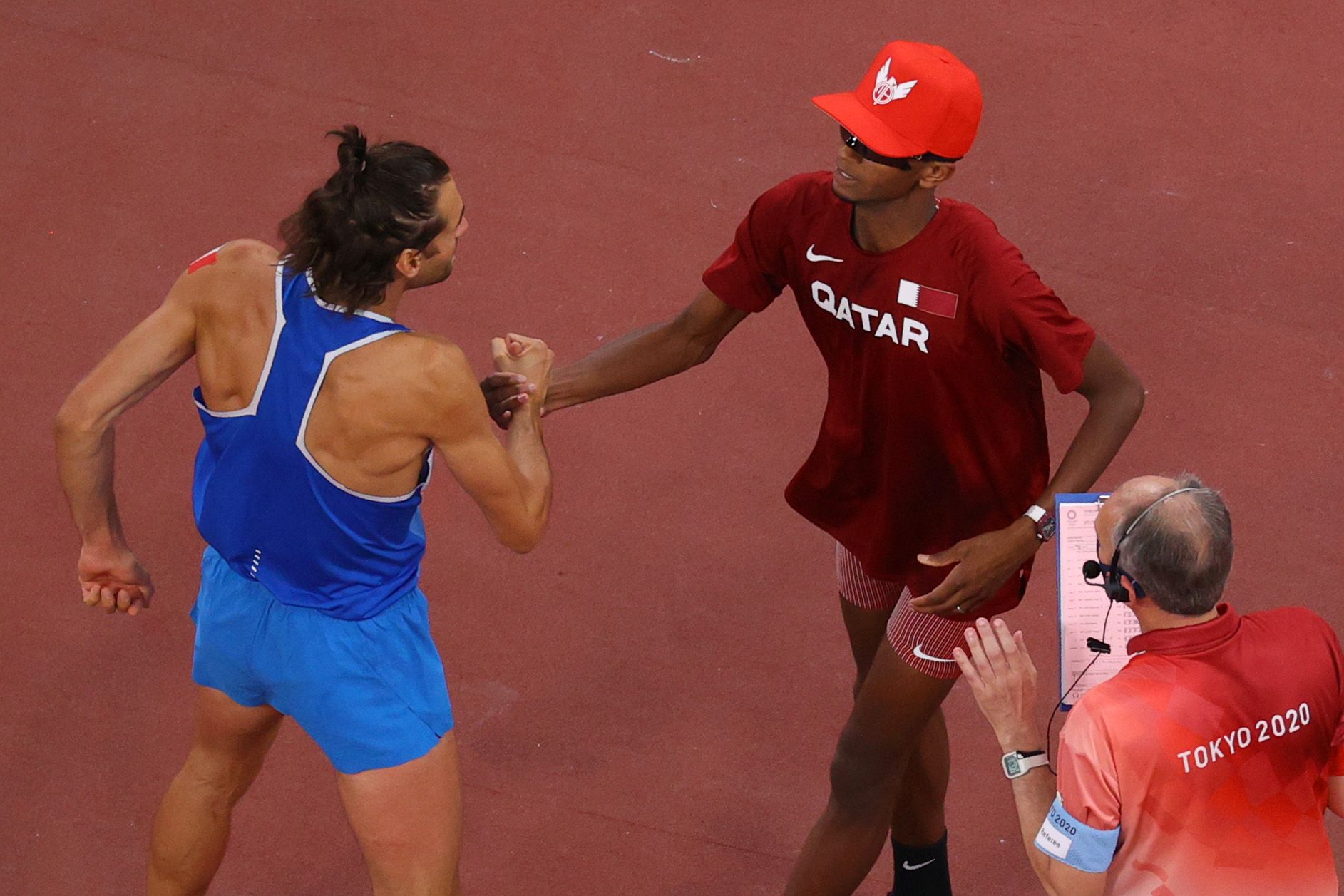 "We can continue with the jump-off," the official started explaining, before Barshim pre-empted his next line.
"Can we have two golds?" asked the Qatari high jumper.
"It's possible," the official replied after a brief pause. "It depends if you…" he continued trying to explain the full scenario, but by that point, Barshim and Tamberi had turned to one another and had started celebrating their joint triumph.
Cue the tears…
2. Winning bonus
Before Tokyo, Timothy Cheruiyot and Jakob Ingebrigtsen were the key protagonists in one of the most enthralling one-sided head-to-heads in recent years.
Cheruiyot had won all 12 of their clashes and headed to the Olympics as the world leader and world champion. But young Norwegian Ingebrigtsen had consistently been the closest finisher to Cheruiyot in the past 12 months and was regarded as the Kenyan's biggest rival at the Games.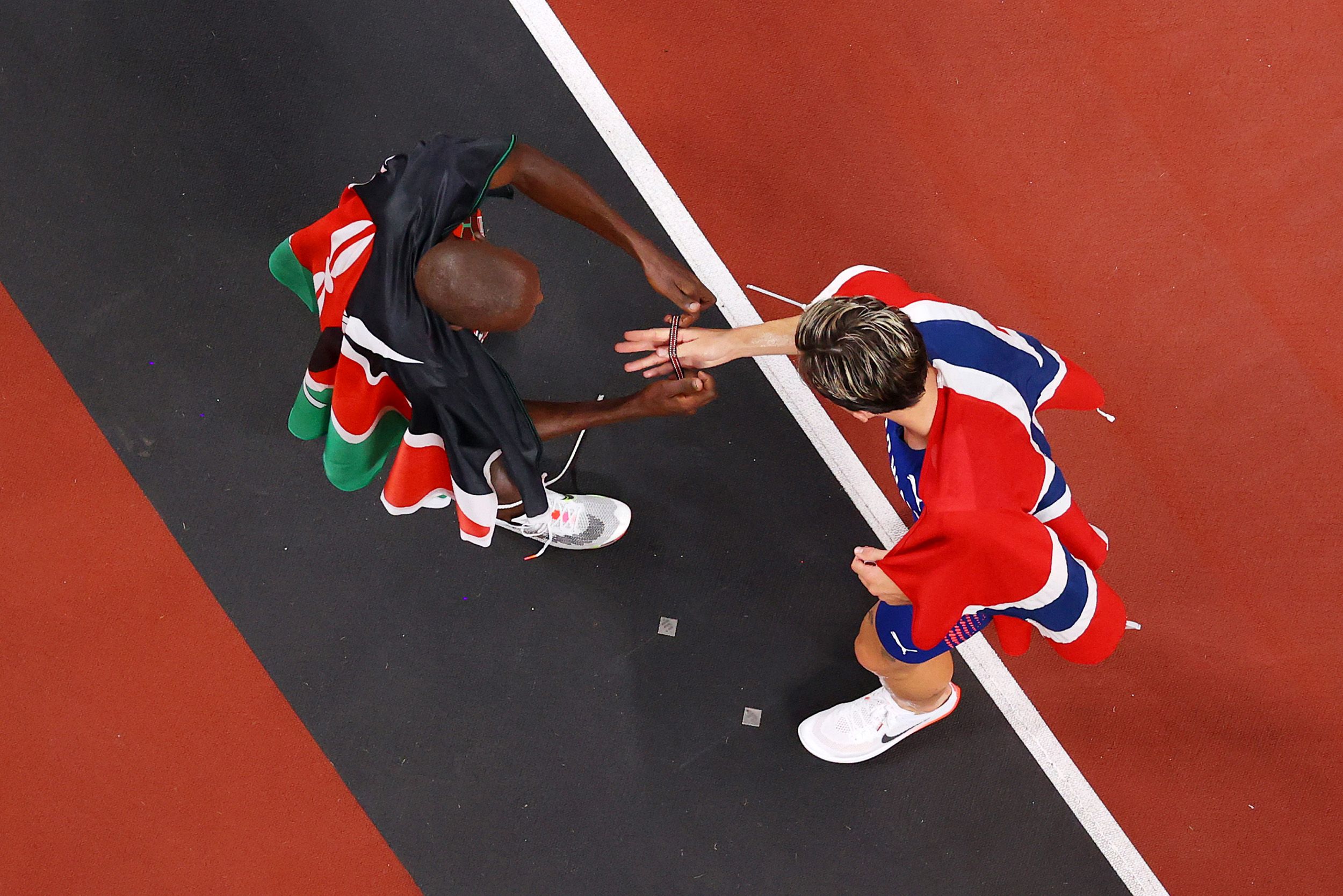 In a race for the ages, Ingebrigtsen defeated Cheruiyot in Tokyo, breaking the Olympic and European records in the process.
Gracious in defeat, Cheruiyot gifted Ingebrigtsen a bracelet after the race.
"When I left my room earlier, I told myself that if someone beats me today, I will give him my bracelet," he explained. "Jakob beat me, so I give it to him."
3. Taking notes
You can imagine that Nicola McDermott was a grade-A student at school.
The studious Australian high jumper makes notes after each jump in every competition – even in an Olympic final. She breaks down her jumps and gives a mark out of 10 for each aspect.
"I never get 10 out of 10," she explained in an interview before the Games. "There is always something to work on."
In Tokyo, though, she had the competition of her life and secured the silver medal with an Oceanian record of 2.02m. For good measure, she made a copy of her notes on her team t-shirt.
"There were a few nines, but overall I rounded up," she said. "I gave it a 10!"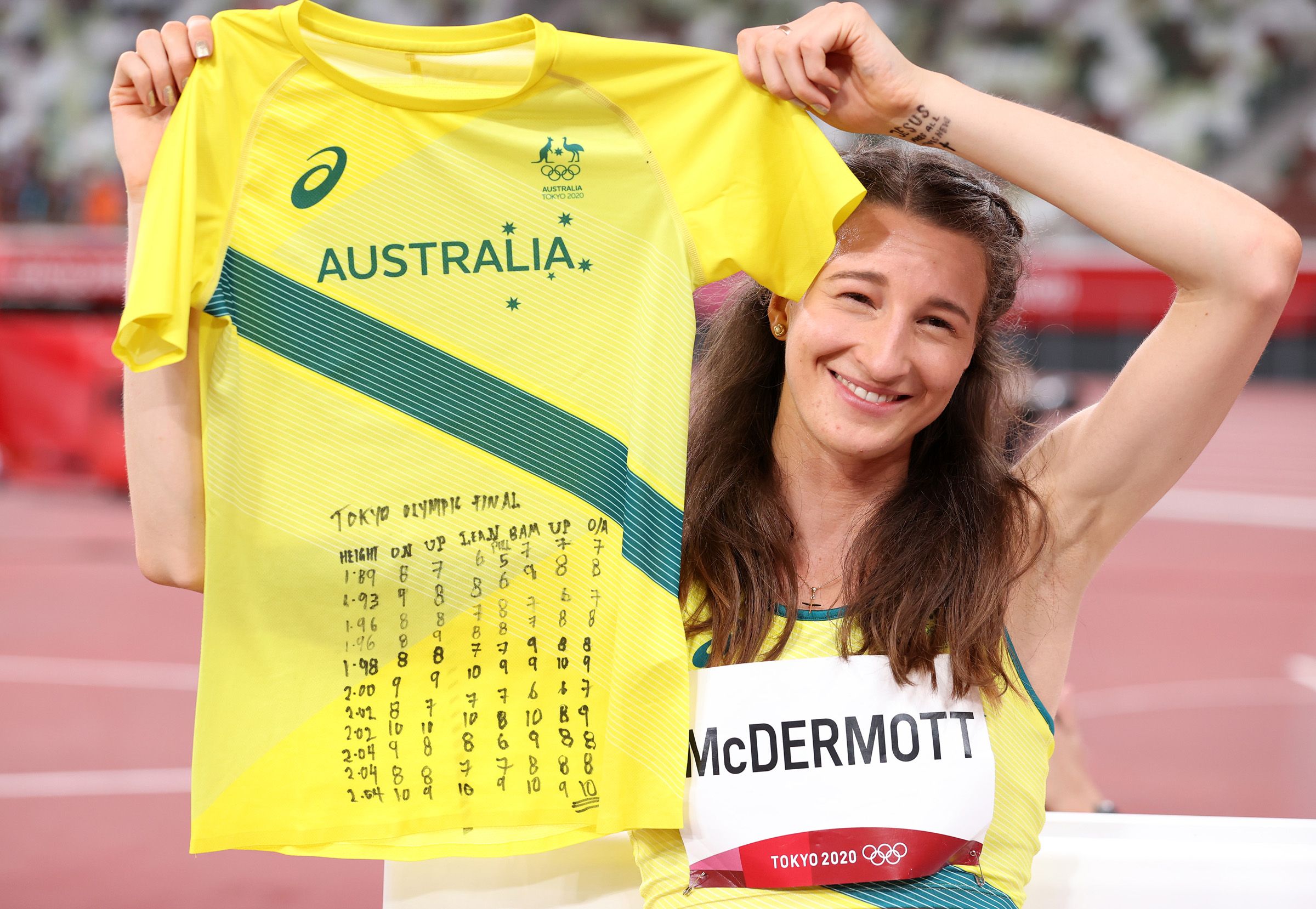 Her note-taking began in her early years. As a nine-year-old just starting out in the sport, she wrote a poem about her dream of competing in the Olympics.
"We all feel like cookies and cream," it said. "Going to the Olympics is my greatest dream."
It seems dreams do come true after all.
View this post on Instagram
4. We did it
Ryan Crouser describes his grandfather as his "biggest fan".
Sadly for the record-breaking US shot putter, his grandfather passed away just a week before the Olympics began. Crouser managed to maintain his composure during the competition and produced the greatest series in shot put history, topped by an Olympic record of 23.30m.
But after being confirmed champion, Crouser held up a note that read: "Grandpa, We did it. 2020 Olympic champion!"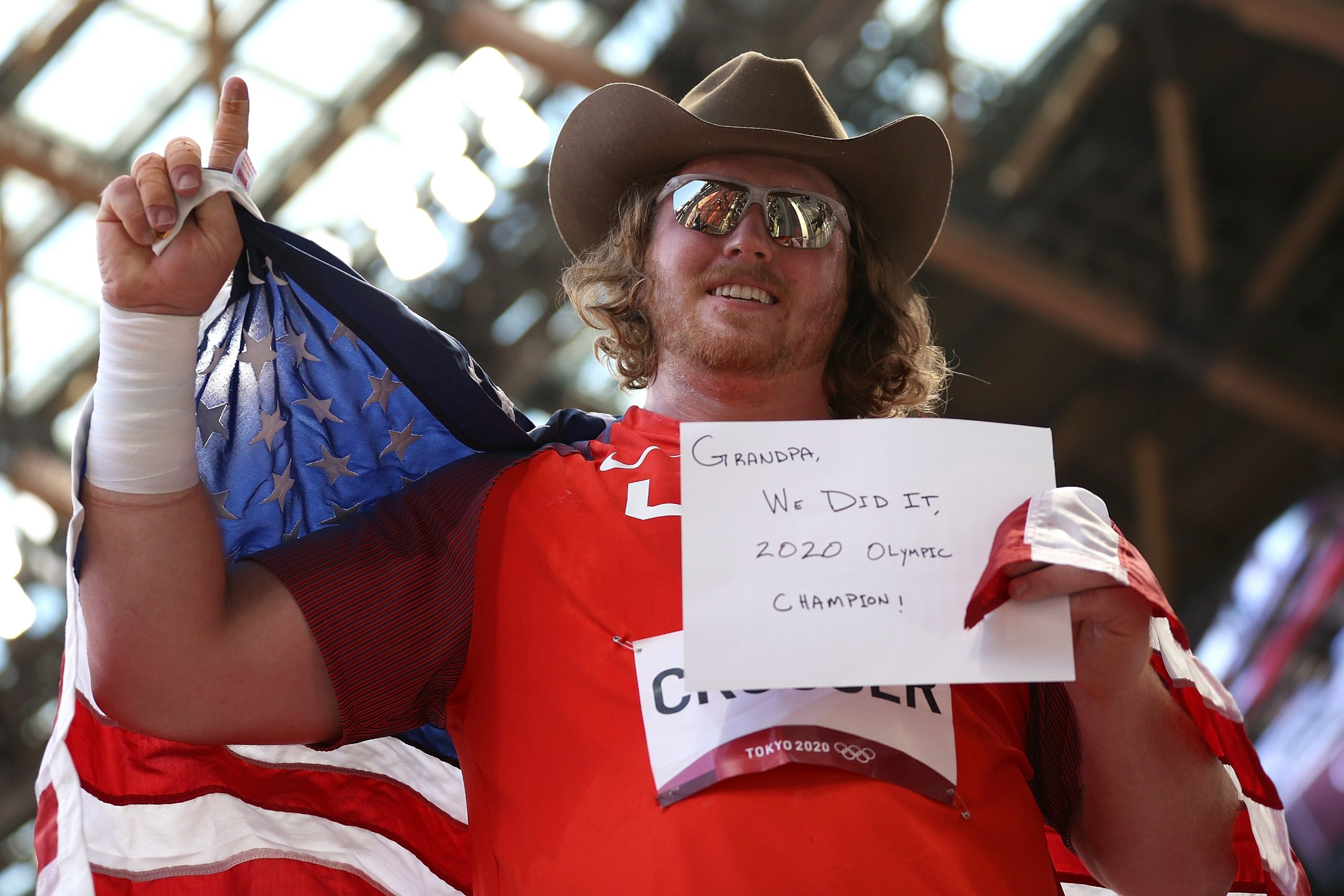 Before his passing, Crouser's grandfather had lost his hearing, so the family would communicate with him by writing notes.
"He would tell me to stop and smell the roses for sure," Crouser said when asked what his grandfather would write in response. "That's what he would always tell me. I know he would be proud if he was here and I felt like he was here watching me. It was definitely a special day."
5. Good as gold
Shot put legend Valerie Adams values her bronze medal from Tokyo as much as she does any of her 10 global gold medals.
Since the Rio Olympics, the New Zealander has given birth to two children and has bounced back from persistent elbow and shoulder injuries.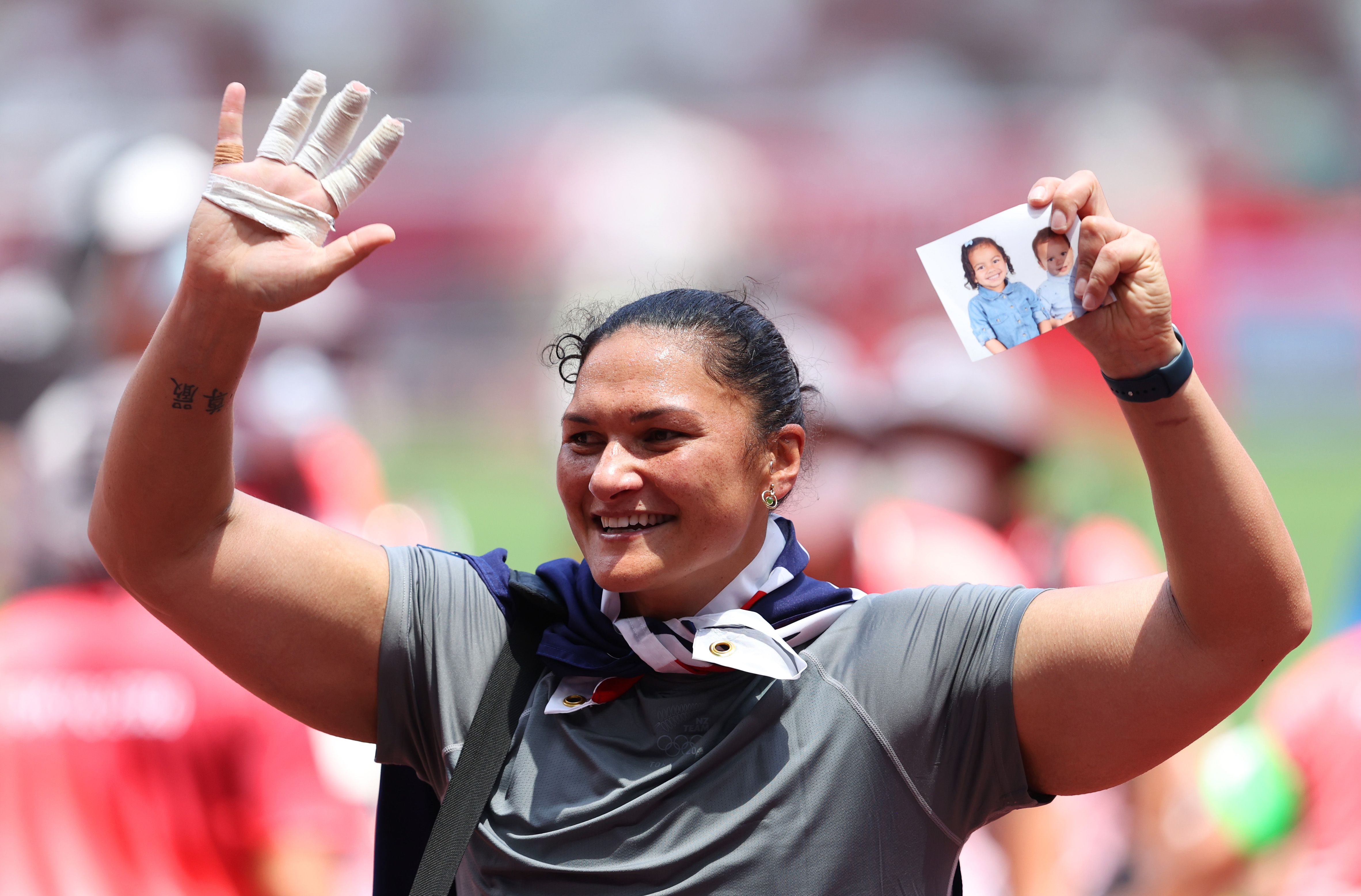 "The feeling of winning a bronze medal today was just as good as when I won the gold medal," she said.
"Since the last Games, I've had these two humans come out of me.
"They're in my training diary and I have one on the wall in the (Olympic) Village," she added, holding up a photo of her daughter, Kimoana, and her son, Kepaleli. "They go everywhere with me on my journey. They are my family.
"It just goes to show the strength of a woman. You can be a mom and come back and be a mother as well."
6. Deserved recognition
Most keen followers of the sport had heard of Neeraj Chopra before the Olympic Games.
But after winning the javelin in Tokyo, and in the process becoming India's first athletics gold medallist in Olympic history, Chopra's profile sky-rocketed.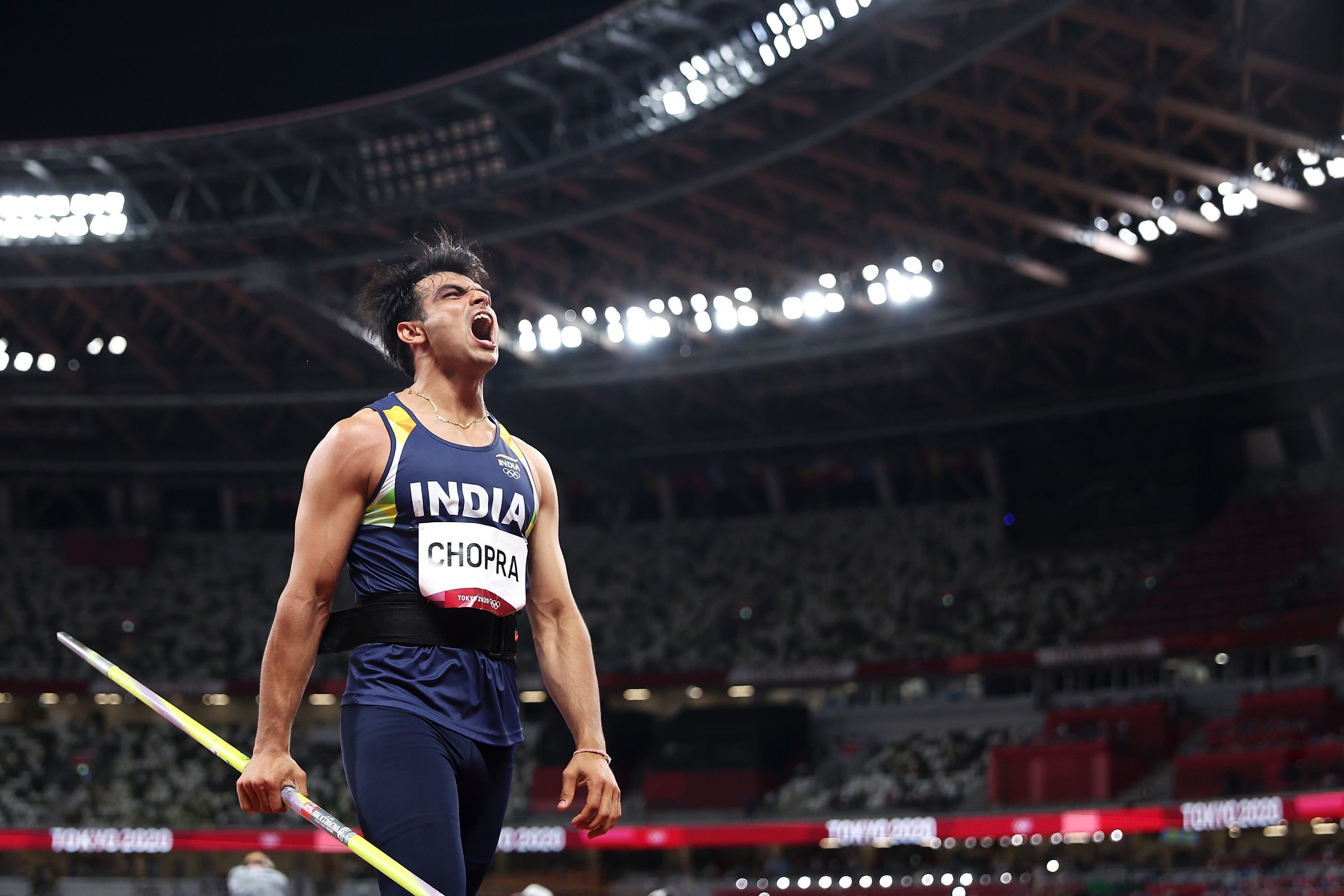 He had 143,000 followers before the Olympics, but now has a staggering 3.2million, making him the most followed track and field athlete in the world.
"Still processing this feeling," he recently posted. "To all of India and beyond, thank you so much for your support and blessings that have helped me reach this stage. This moment will live with me forever."
7. Checking in with the fam
With fans, friends and family unable to attend the Olympics, organisers provided innovative ways to connect medallists with their loved ones.
After each final, the top performers were able to communicate with people back at home via video link-up. And there was a right house full for one athlete in particular.
Andre De Grasse, the 200m gold medallist, was greeted by partner Nia Ali – the world 100m hurdles champion – their two children, and other extended family members.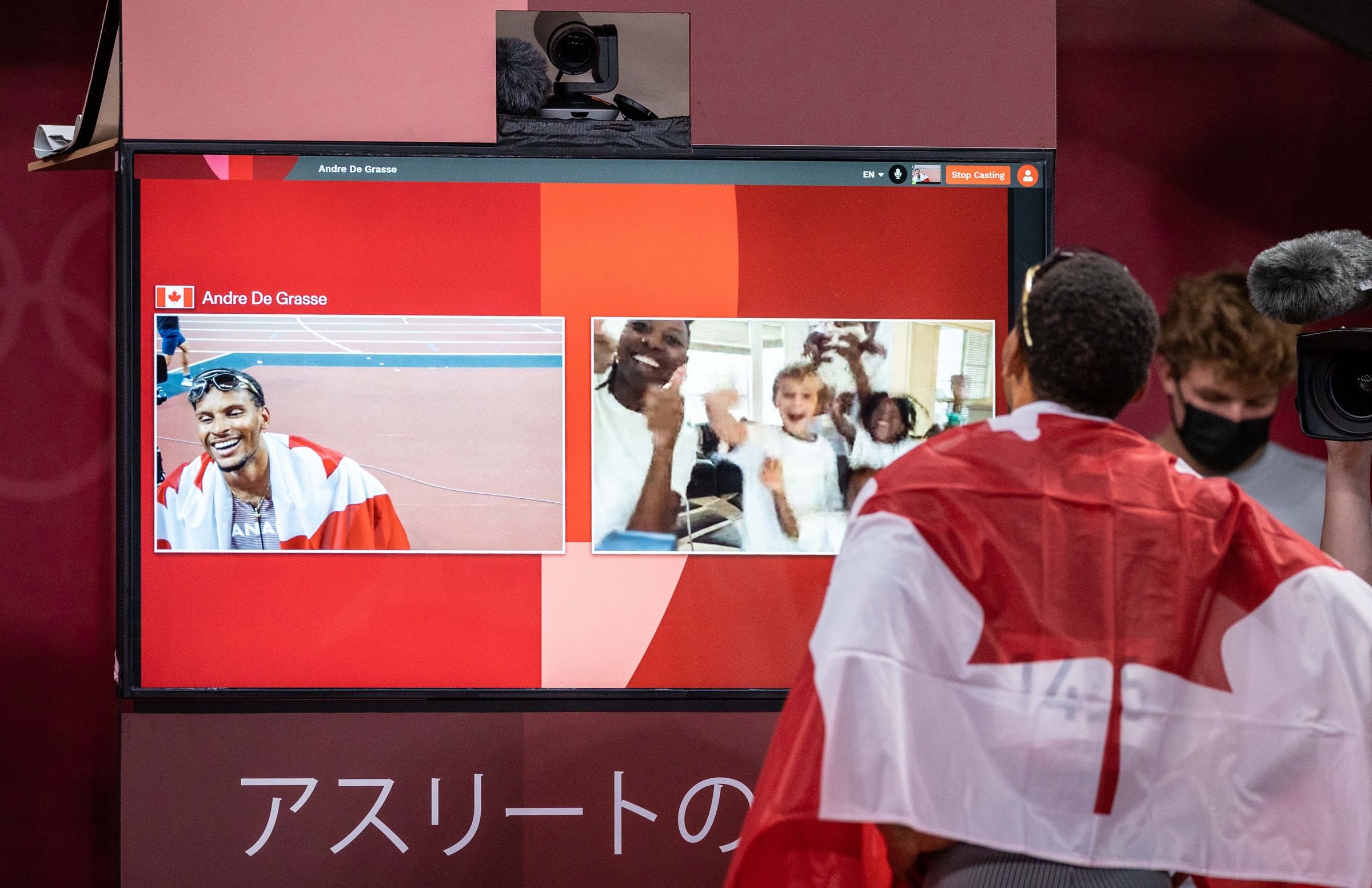 "I'll see you soon, I love you guys. I'll Facetime you later," said De Grasse. "I can't believe it. Oh my God, I did it."
And, like a true Canadian, he signed off with: "Have a good day."
8. Following in the footsteps of the greats
In the immediate aftermath of their competition, several medallists paid tribute to the athletes who have paved the way in their respective events.
Decathlon winner Damian Warner explained how he was inspired by the past two world record-holders in his event.
"I don't know if you can say that I'm the best athlete in the world when you have someone like Kevin, who has scored 9126," said the Canadian. "It's a shame that me, Kevin and Ashton weren't at our best at the same time. I think we could have really propelled each other. I think Ashton would have been able to score much higher than he did, I think Kevin's able to score much higher.
"Ashton has meant so much to be throughout my career. I remember when he retired, I wrote a message to him to explain that he meant a lot to me. When I first started in the decathlon, my coach and I would go on YouTube and watch videos of Ashton and all the other greats. It's all those guys who created me."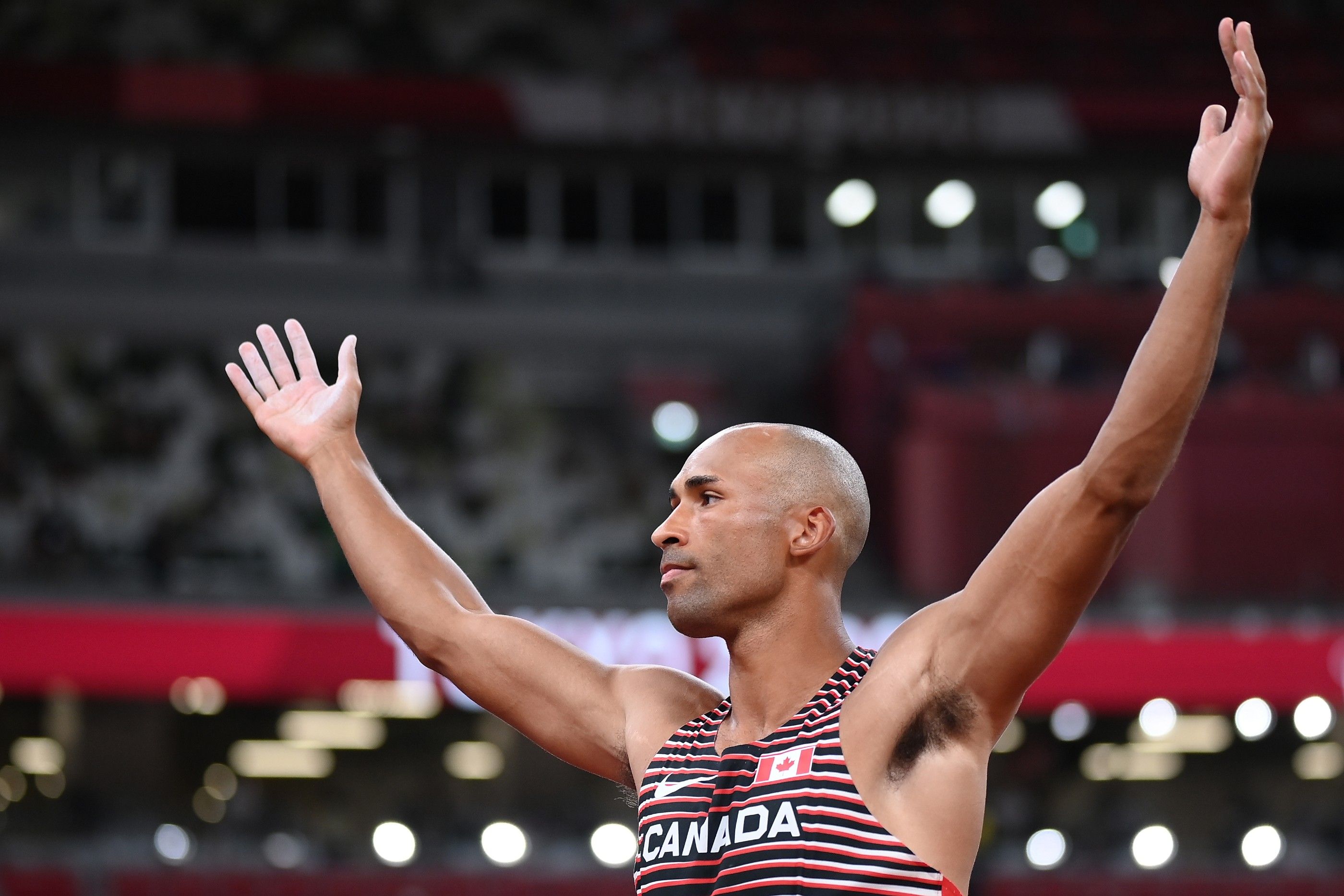 And Laura Muir, silver medallist in the 1500m, explained how she was delighted to finish second to an all-time great in her event.
"She's the greatest of all time," Muir said of two-time Olympic 1500m champion Faith Kipyegon. "She doesn't get enough credit. She's won everything there is. I've got a lot of respect for her and I'm very, very happy to see her winning gold and I'm honoured to be behind her in that race."
9. Appreciation behind the scenes
Volunteers are the unsung heroes of any major event, but this was especially true at the Tokyo Olympic Games.



When athletes made their way from the field of play and headed into the mixed zone in the bowels of the stadium to speak to reporters, volunteers would greet each competitor with a round of applause.
They were also there at the airport, still smiling and waving, on the final few days of the Games to wave off athletes as they headed home.
10. The Inside Track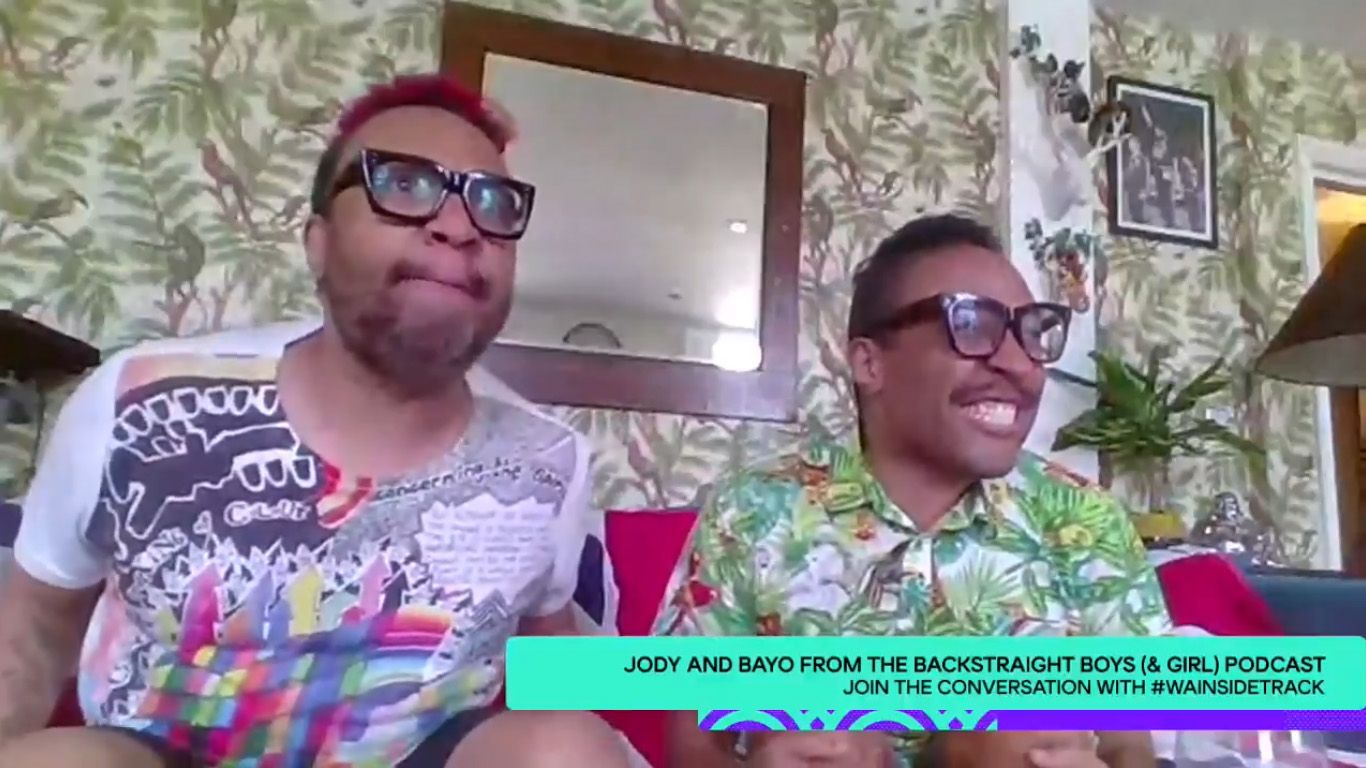 Throughout the Games, the World Athletics website provided a second-screen experience so that people could enjoy the action alongside sporting legends, athletes' families and super fans.
One of the best reactions came from Jody and Bayo from the Backstraight Boys (& Girl) Podcast as they watched the men's 4x100m final.
"Oh, Italy won" 😯😅

🇬🇧 @BackstraightB, u ok hun?

That men's 4x100 was a 𝙧𝙚𝙡𝙖𝙮 emotional rollercoaster 🎢#Tokyo2020 #WAInsideTrack pic.twitter.com/JsJoaU0nOr

— World Athletics (@WorldAthletics) August 6, 2021
Earlier in the Games, they had a similarly memorable reaction to Tamberi and Barshim sharing the gold medal in the high jump.
In the words of Bayo: "That's so Olympic."