Sustainability at the Virgin Money London Marathon (© Adam Warner for Virgin Money London Marathon)
Since launching 40 years ago, the London Marathon has become firmly established as one of the world's leading mass participation events and is embedded as an iconic occasion in the international road running calendar.
It has been the scene of several world records, most notably in 2005 when Paula Radcliffe reset the boundaries of women's endurance running by clocking 2:15:25, roared on by a packed and passionate British crowd.
Fast forward to 2021, on the eve of this Sunday's World Athletics Elite Platinum Label event, Virgin Money London Marathon organisers have broadened their world-leading ambitions to include environmental sustainability.
"We recognise we have a responsibility as a high-profile mass participation event to set a higher standard," says Megan Hunt, head of sustainability at London Marathon Events (LME), which also hosts 12 other hugely popular events with more than 200,000 annual participants.
This weekend alone, up to 50,000 participants will take to the London streets to tackle the classic distance, cheered on by an estimated 750,000 spectators lining the route, and a further 50,000 are expected to take part 'virtually' by running, jogging or walking the 42.195km distance in their own communities across the world.
By any estimate, it is a huge operation, involving massive numbers of people, and with that comes the potential for a large environmental impact. It is an obligation they take very seriously, both in terms of their events and the role they play in influencing the behaviour of hundreds of thousands of people.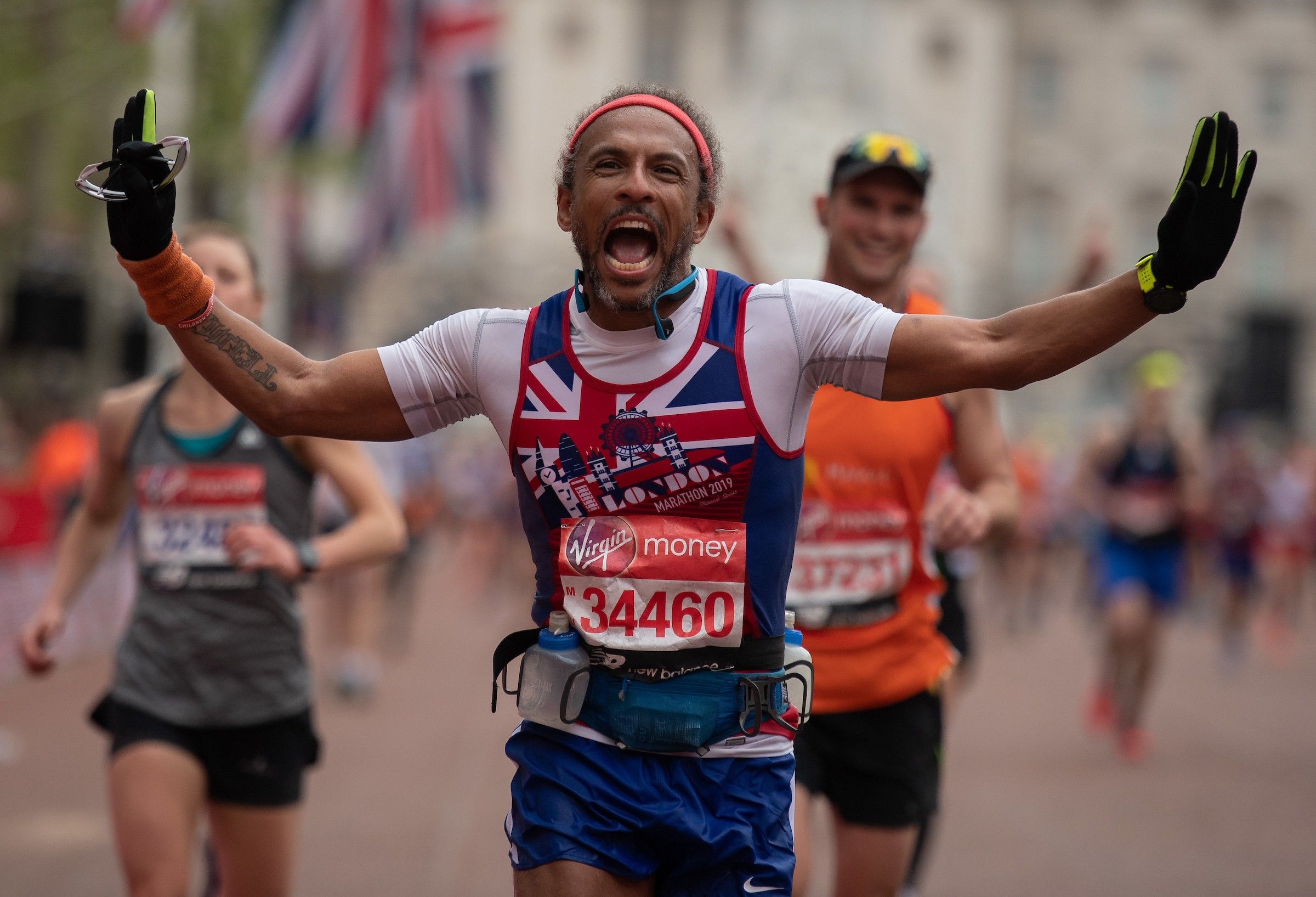 A runner with water belt completes the London Marathon (© Thomas Lovelock for Virgin Money London Marathon)


'We are in a unique position, and we can do something about it'
"Environmental sustainability is one of our company-wide objectives, it's a really important pillar of what we do, it's something that needs to be in the DNA of every organisation across all aspects and the LME recognises that," says Hunt.
"As we organise mass participation events, we have a responsibility to try and reduce our environmental impact and create collective action amongst our partners and participants. We are in a unique position, and we can do something about it."
Since 2019, the London Marathon has experimented with and activated several environmental innovations to reduce its impact. With last year's event reduced to an elite-only field in London, 2021's event presents a first opportunity to roll out more eco-friendly practices.
This includes printing numbers at the event registration rather than posting them in pre-race packs, which – it is estimated – will result in 1000 less numbers being printed. Following testing in 2019, this year will also see a clothing donation system in place at the start, with a charity on hand to collect all discarded clothing for re-use or recycling. At another LME event, 55% of clothing was reused and the remainder was recycled.
Plastic water bottles are an almost unavoidable feature of any mass participation event, and this is another area in which race organisers have taken big strides forward.
Every water bottle used is made from recycled material and is 100% recyclable. To support this, #DrinkDrainDrop messaging to all runners is designed to encourage the proper draining of bottles and for them to be dropped in the assigned sacks to enable a closed loop system of recycling. In addition, there will also be compostable cups used on site for sports drinks and runners are being urged to use bottle belts to reduce overall use of plastic bottles. The latter, it is estimated, can reduce the demand for water bottles by 40%.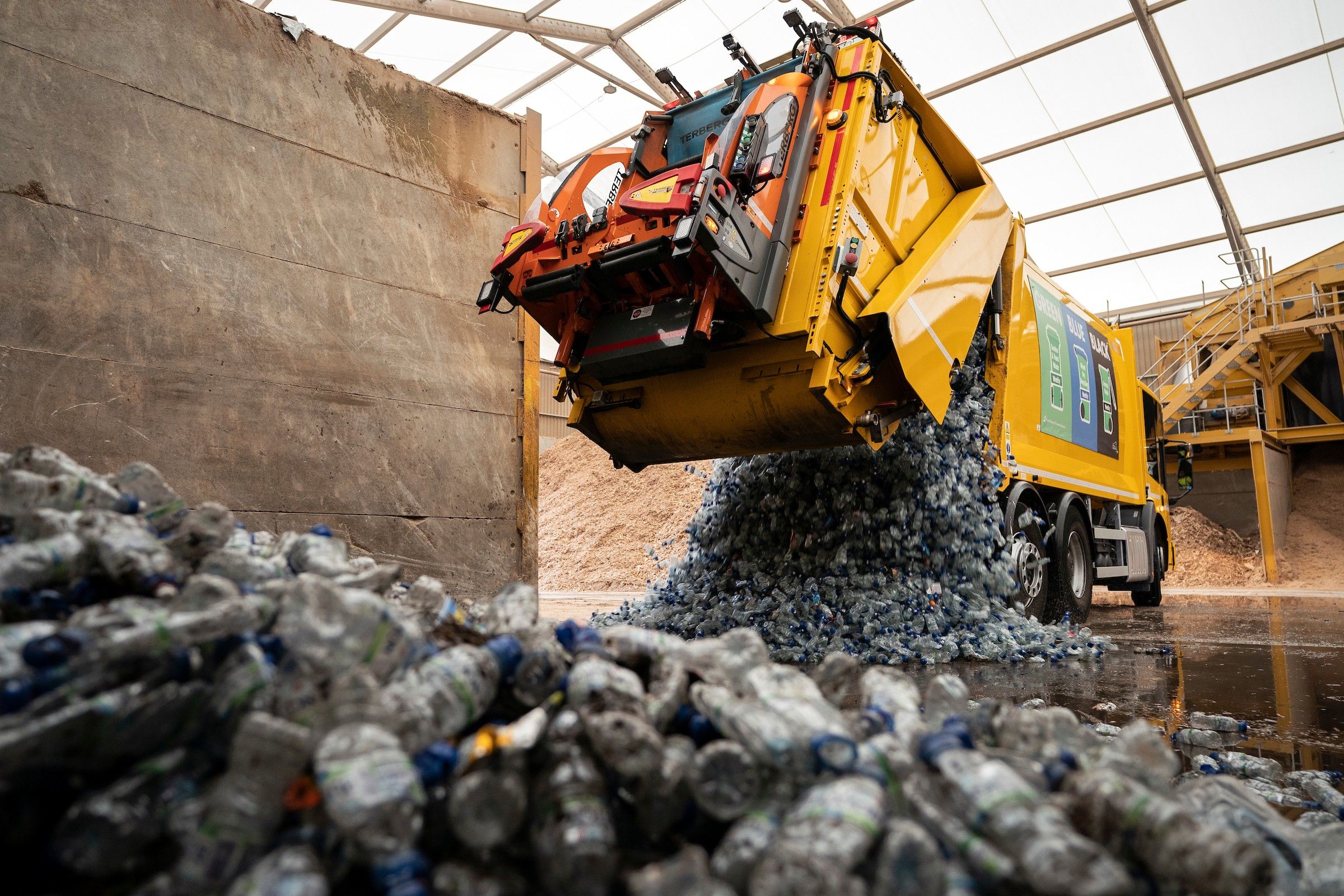 (© Adam Warner for Virgin Money London Marathon)


Creating a positive conversation around environmental sustainability
For fuel emissions, organisers have also made changes to reduce carbon, switching to Hydrotreated Vegetable Oil fuel over red diesel for their power generators and deploying electric lead vehicles ahead of the elite field. When it comes to waste, a system of general waste, food and recycling will be in place to reduce litter and landfill. At the end, runners' finisher bags are made from sugarcane, also with a lower carbon footprint.
The environmentally-friendly face of the event has been welcomed by participants. "We've had good feedback, we've had positive feedback, but we know we can do more," says Hunt, who hopes the experience of the London Marathon has a ripple effect.
"The aim is to create a positive conversation around environmental sustainability and create behaviour change for when participants go into other running events. But we are always looking for feedback to see how we can improve and how we can do better."
The event continues to evolve year on year, but not every environmental experiment has worked.
"We've been honest. We've trialled things and if they don't work, that's fine. At least we've tried it," Hunt admits. "So, one example, in 2019, was capes. We picked 500 participants and the aim of those capes was to reduce discarded clothing at the start and the number of kit bags used. But we decided in the end not to continue with them because the environmental impact in the production of those capes and washing them, outweighed the waste reduction benefits."
Organisers are conscious that the influence of the London Marathon goes well beyond Sunday and also beyond the UK, and so they take a collaborative, long-term and international view.
"We've been working closely with other mass participation events in the UK and also our Abbott World Marathon Majors partners to share learnings and create best practice, so the behaviour change and good environmental behaviours are taken at all events. With environmental sustainability and climate action, working together and working collaboratively is the way you will gain positive change. I think everyone recognises that you can't do it alone," she says.
As well as working with their partners at the Berlin, Tokyo, Boston, Chicago and New York marathons on environmental sustainability, London organisers are also seeking to make a difference in the home countries of their elite athletes.
"We wanted to support projects that had a link with where our elite athletes are from. A lot of the elite athletes are positive and endorse taking climate action. So, one of the things we are trying to do is invest in carbon balancing and carbon offsets and those projects will be based in Kenya. One example is community reforestation in Kenya," reveals Hunt.
As for the future, Hunt is ultra-keen for London to continue to be a leader in environmental innovation and for improvement year on year. "One big area that we want to do is reduce the emissions from our own operations (aside from the events)," she says. "Being able to decarbonise those and switch to renewable forms of power and electrifying our fleet (of vehicles). Waste is another key area, so transitioning and increasing the amount of circularity in our products too."
When it comes to climate action, London Marathon is in it for the long run.
Chris Broadbent for World Athletics